Originally from Auckland, New Zealand, Aaron has been living, and playing music in New York City since 1998. He played with numerous groups in New Zealand, and in 1997 formed a quartet co-led with Chris White, which won the prize for 'Jazz Album of the Year' at the 1998 New Zealand Music Awards. He also recorded in many other settings including big band, organ trio, jazz/funk, and trip hop.
Since arriving in New York Aaron has played many of the top venues in the city including The Knitting Factory, Jazz Standard, 55 Bar, Dharma, C-Note, Baby Jupiter, Downtime, and Cornelia Street Cafe. He been featured with such jazz luminaries as George Garzone, Andy McKee, George Schuller, Chico Freeman and Phil Markowitz. Aaron is currently working around New York in a variety of groups playing original jazz, standards, and original pop and rock music.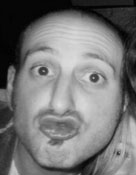 aaron is a guitar player. many people have also called him a thinker. there's not much money in thinking or guitar playing, so he'll continue to eat falafel twice a week and drink from fresh new york city puddles. that's where he lives, by the way. he originally lived in philadelphia. he's been playing original music since-he can't remember exactly when-but i'd say from the age of fourteen. he's not a workaholic. i'm sure he's a somethingaholic but i'm not quite sure yet what that something is. he likes to play many kinds of music with many kinds of musicians and non-musicians. he once told me that he heard from a birdie that sometimes someone calls his/herself a musician and then begins to dislike simple music. he told me that he wants to continue to enjoy simple music. he's not a musician anymore. i guess he's not a guitar player either...............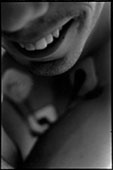 Born in Denmark in 1972 Anne Mette, studied classical piano before being inspired to pick up the acoustic bass at the age of 22. In Denmark she played the Copenhagen International Jazz Festival in 1996 & 1998, and toured to Greenland, Sweden, Germany, Slovakia, Austria and Brazil. Anne Mette also recorded with Arabian Underground, a world-fusion group.
She has performed extensively around New York's jazz clubs,the Jazz Standard, Birdland, Knitting Factory, Detour, Kavehaz, C-Note, 55 Bar, Dharma and Tramps Café. Anne Mette also plays with the Mannes Orchestra which regularly performs at Alice Tully Hall, Symphony Space and Carnegie Hall.She is a member of "April" The Aki Takase Project, a jazz sextet, which regularly tours Europe and latest performed at Berlin Jazz Fest, 2000. Anne Mette composes and arranges, and among her works are string quartets, works for choir, for jazz rhythm section and string quartet, choral for 5 brass and double bass.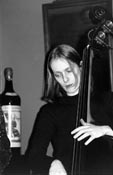 Background: inventor of the plastic drumdekpipe, an integrated object combining measurment of volume and sound. Started making noise in June last year using primitive techniques to produce sound on cylindric objects by using intuitive muscular reflexes. Was initially inspired by being rocked in cradle to Neil Young's "Harvest" some time ago.
Hobbies: rabbits, saladdressings, nails.
Dislikes: Bluecheese, cowboyboots, #69